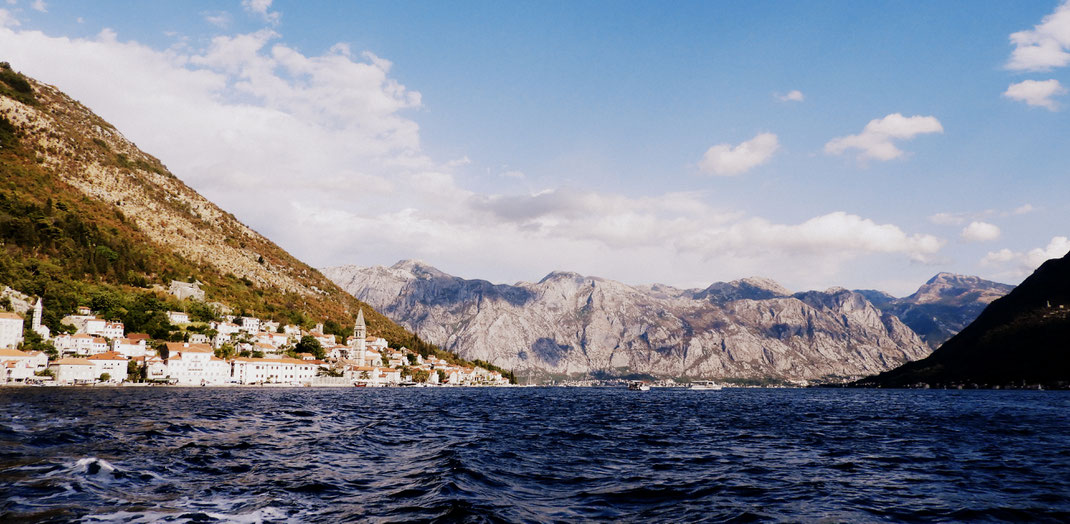 Perast est une toute petite ville figée dans le temps, sublime et paisible. Elle est classée au patrimoine mondial de l'UNESCO et offre une vue spectaculaire ainsi qu'un accès en bateau à deux îlots exceptionnels : l'île aux Morts avec son monastère et son cimetière (le tout sur une minuscule île), mais aussi Notre Dame Du Rocher (où nous sommes allés) et son monument au toit azur.

Perast is a tiny, beautiful and quiet old city, listed on the UNESCO world heritage list. The city offers an amazing view and a boat access to two wonderful small islands : the death island (which has its own cemetery & monastery), but also Lady of the rocks (where we went) and its church with a sky blue roof.
Y aller : En bus (une vingtaine de minutes depuis Kotor)
Y manger : Les grandes tables en bois de la terrasse du Konoba Skolji vous accueilleront parfaitement pour un déjeuner / dîner. Leur spécialité ? Tout ce qui se grille ! Le barbecue est sur la terrasse et on y fait cuire poissons frais, légumes et viande des montagnes.
Y boire un verre : Testez absolument le Pirates' Bar (en longeant la baie vers l'ouest de la Ville). Un vrai paradis avec ses fauteuils face aux bouches de Kotor, et son accès direct à l'eau (vous pouvez vous baigner puis boire un verre, ou l'inverse, c'est comme vous voulez).
To Go there : By bus (20 minutes from Kotor city)
To Eat : The long woodmade tables of Konoba Skolji will host you perfectly for a lunch or dinner. Their specialty? Anything that can be grilled! The barbecue is on the deck, ready to grill fresh fish and vegetables but also mountain meat.
To Drink : Going to Perast, you MUST stop at the Pirate's Bar (follow the bay to the west). It's a true gem, with its comfy seats in front of the Kotor Bay, and its direct access to the water (you can swim then get a cocktail, or the other way, it's up to you).
Ce qui m'a le plus plu à Perast c'est la vue. Lorsque l'on est à Perast, on fait face à un golfe, à deux îlots incroyables, entouré par des montagnes vertigineuses et sublimes. Bref, Perast donne le vertige et est parfait pour passer un beau moment monténégrin.
What I loved the most about Perast was the view. When in Perast, you face a gulf, two amazing islands, surrounded by huge, gorgeous mountains. Perast makes you dizzy in the best way and is the perfect place to have a memorable moment in Montenegro.
S e e  Y a  F o l k s
M.