Where to go for some drinks and to eat in Hanoi, Vietnam? Here are 6 tested and approved places you should check out in Hanoi, Viet nam.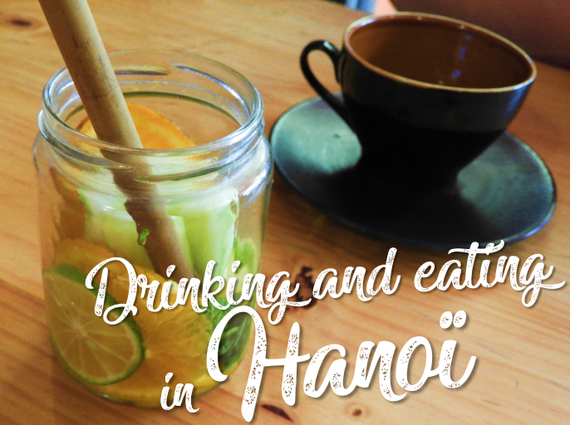 If you follow me on Instagram, you know that eating is a VERY important aspect when I'm travelling.
While eating never really is a problem wherever you are (unless maybe at the heart of the arctic…), finding good spots when travelling isn't always easy. You find yourself flooded with recommendations from guidebooks, but without pictures or real friends' advice you often end up hesitating.
I'm suggesting here ONLY 6 tested (and approved) places, and most of them were beforehand recommended to me by locals or friends who often go to Vietnam.
Bon appétit!

Quan an ngon:
18 Phan Bội Châu, Cửa Nam, Hoàn Kiếm, Hà Nội, Vietnam
You'll be able to choose among many Vietnamese specialties (Mixa xiu, Pho, Banh Xeo…). Price is quite low (but still a little higher than in other places) and you'll eat surrounded by locals.
Banh my Pho Co
On Dinh Liêt street
A good place to have Pho in Hanoi, REALLY cheap
Side note: in Vietnam, locals eat Pho in the morning for breakfast (but don't worry you can still find some all day long)
Jalus Vegan Kitchen:
46 Hàng Trống, Hoàn Kiếm, Hà Nội, Vietnam
Great option for vegetarians AND vegans
They have delicious smoothies, and the place itself is really cool for chilling while preparing the next steps of your trip for instance ! 

The Jalus Kitchen is also a perfect place for a coffee "sua da" (= vietnamese style) or a good smoothie, but there are 3 other places that I particularly recommend:
Ga Cafe
20D Trần Quý Cap, Văn Miếu, Đống Đa, Hà Nội, Vietnam
Located in a shady looking street next to the train station to go in the north , this coffee shop is a great surprise. Instead of sitting in the rather gloomy waiting room of the station, sit comfortably in this nice coffee place before taking your train!
Q Café
On Hang Than street
You'll see, the crowd here is (very) young and the cafe is also a chichi bar BUT there a very nice balcony with a good view on the street on the 2nd floor, and the smoothies are delicious
Highlands coffee
 28A Điện Biên Phủ, Điện Bàn, Ba Đình, Hà Nội, Vietnam
This chain is everywhere in Vietnam but this one offers a comfortable and cozy outdoor atmosphere, and great bubble teas

In Hanoi, you can literally have beers everywhere,
BUT if there was only one bar to recommend to go cocktail or European/US beers style, it would be:  
The BarBetta
34 Cao Ba Quat, Da Binh, Hanoï
This bar has a great rooftop and offers good cocktails!
Small piece of advice for bars in Vietnam: in general high end hotels also have bars and restaurants much cheaper than in Europe, and they often have great rooftops so don't hesitate to check our the websites of Hiltons, Sofitels and other Plazas! 
---
Treat yourself! And don't hesitate to share your favorite places in Hanoi
xxx
M.
#teamgourmetotters
---
Don't hesitate to share! (the more we are, the better we eat!!)